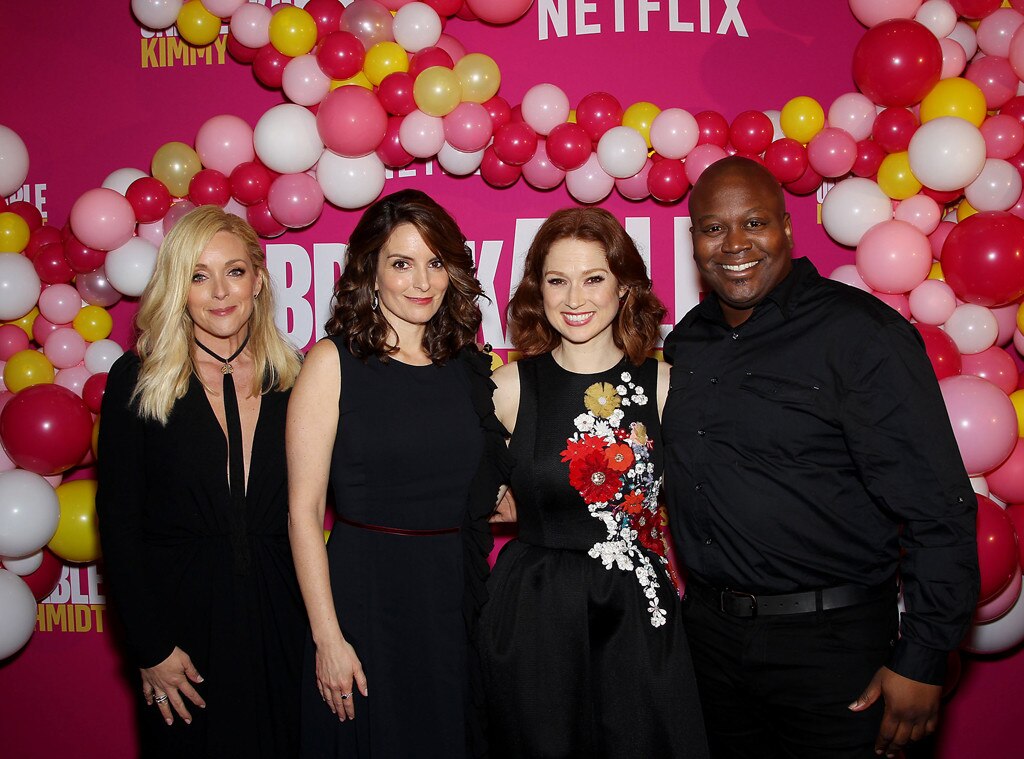 Marion Curtis/StarPix for Netflix
Behold the power of Tina Fey and Robert Carlock. With Unbreakable Kimmy Schmidt, the Netflix series the two co-created, the writers and executive producers created new platforms for Ellie Kemper, previously a supporting player on The Office, 30 Rock's Jane Krakowski, and Tituss Burgess, a Broadway veteran who had limited TV work…that is until his Kimmy Schmidt role was written for him.
"That sounds nuts, doesn't it?…That's the stuff of old Hollywood, right? Where you make a star, where you create a star, when you give an unknown a vehicle and a star is born? Pardon the movie reference," Burgess laughed. "I didn't believe it when I heard it was sort of, kind of happening. Even to this day though, in all sincerity, I still pinch myself."
"I still kind of can't believe my good fortune, but I just love working with [Fey] so much and I've learned so much from her about how to handle an empire," Burgess continued. "She has her hands in so many different projects and yet she's always calm and cool. She's always on set and she gives the best notes. So, no, I never in my wildest dreams would've imagined I'd have a TV show where my name is my name."
E! News was on the Queens, New York set of Unbreakable Kimmy Schmidt's third season finale as the three actors looked back on how their lives have been impacted by their work on the Netflix series. Now Burgess is two Emmy nominations in and has his own line of wine, all thanks to Unbreakable Kimmy Schmidt.
"What's been the biggest change? That's a really good question. I have a relatively boring answer. You've heard the phrase, "If you want to get something done, give it to a busy person"? I seem to have far more going on outside of Kimmy Schmidt that requires the same amount of focus, so I don't get a lot of sleep. But I'm kind of getting a lot of things done, so I guess I've learned to multitask better," he said.
And then there's Krakowski, who appeared in all seven seasons of Fey's Emmy-winning NBC comedy 30 Rock as the attention-hungry actress Jenna Maroney. She received four Emmy nominations for the role and is now on her 11th year working with Fey and Carlock—all stemming from a role she didn't even originally have in 30 Rock's first (unaired) pilot. The impact is not lost on Krakowski.
"I really look back on that day and I don't know what good luck was bestowed on me. I just went in for an audition to meet with Tina and Robert—who would've expected we'd have this many years together? I've been completely spoiled because I don't want to go out in the real world. I've had the best writing there could be for the last 11 or 12 television seasons now. They've come way more to me than just coworkers. We've shared life things together; we've had our kids at the same time. I look to Tina for so much advice beyond even work-related issues, I just think she's a great lady. So, no, I never thought we'd be this far and I hope we keep going. I only hope that this show has as many years as 30 Rock did and that we can grow old together," Krakowski laughed.
And now it's Kemper's turn to grow with her character. Kimmy Schmidt is Kemper's first lead TV role. She received her first Emmy nomination and had her first baby while inhabiting Kimmy Schmidt's brightly-colored pants.
"This sounds absolutely corny, I will fully admit it, but I am inspired by Kimmy. I think that she embodies this spirit I hope to—that I strive to have. She is so tenacious and resilient and refuses to let outside circumstances dictate her own actions. That I try to draw from that in my real life when I'm feeling frustrated or challenged or whatever it is," Kemper said. "That has been so special. We were just thinking about that first season and filming the pilot outside—everything that has happened already, both personally and professionally for all of us the past three years. It's cool to be able to track professional milestones to what's happening personally as well."
However, the one thing that hasn't changed for the three actors is the relationship between them all.
"It was one of those things where you just don't know when they put you together— although with Tina Fey and Robert Carlock at the helm I assumed they'd pick like-minded people—but yeah we just had this instant friendship and bond. That's a great feeling to have when you first come in and it's been the same. I adore those folks," Krakowski said.
Burgess agreed.
"Honestly, I've got to tell you, it's the same as day one. Nothing's changed. Love expands, compounds, but I have not learned anything new or…It started in a place like a familial atmosphere," Burgess said.
"Tituss and I both felt this…Maybe it was the first day on set because we met before that, but the first day on set we were like, 'Oh, we know each other from, I don't know,'" Kemper said. "We just felt that we had known each other for years and years. It's that kind of friendship, which is so lucky."
Even if he hasn't met Kemper's baby.
"Now Ellie has a baby…That I still have not met. The running joke is this baby does not exist. But she and I—that is my sister from another mister…I'm obsessed with her in such an unhealthy way. When we're not working together we're constantly texting," Burgess said. "I keep telling her we should take our texts exchange and make a coffee table book because the things that we talk about are so ri-damn-diculous. I just love her so much. She's one of my favorite people on the planet, truly."
Unbreakable Kimmy Schmidt season three drops Friday, May 19 on Netflix.